Futuristic Creative USB Fan Clock
Regular price ₱2,500.00 ₱895.00 64% OFF
The futuristic plug and play USB powered fan with LED light clock!
This USB Clock Fan is powered via any USB port, made from safe and soft PVC fan blades that won't hurt your fingers or hands when you touch or stop the fan. It contains a unique LED light array that shows a digital clock the fan is ON.
How does it work?
The USB Clock Fan works on any USB outlet you could find. It has a flexible metal neck which allows you to easily bent or adjust the metal on the desired direction.
When the fan is stopped, green LED light is on. While the red ones, do not light up unless the fan blade is spinning.
How to Use?
Plug the USB Clock Fan into a USB port and press the ON/OFF switch to turn on the fan.
Setting the time:
Press and hold the ON/OFF button until minute hand starts blinking.

Setting the hour hand: continue to hold ON/OFF button to set the hour hand. The clock will spin clockwise fast, release the button just before the correct hour.

Setting the minute hand: After the hour is set, the minute hand will flash. Click the ON/OFF button to move the minute hand forward to the correct time.

Then leave for 6 seconds and the time is set.

If you unplug the clock it has an internal battery that stores the last time it was set to.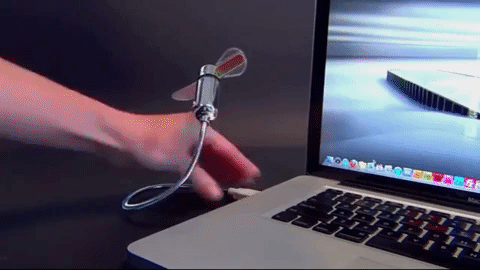 IMPORTANT NOTE:
Keep your hair and face away from the rotating fan blades.

Be careful not to press hard to the USB connector when adjusting the flexible neck.

When the fan is moving, keep the children away from the product.

Please turn OFF the fan when you do not use it.

Rest the product for 4-5 hours from working to prolong the service life.
Package Includes:
1 USB LED Clock Fan

Time setting instructions
Due to OVERWHELMING DEMAND, please allow at least 1-3 weeks for delivery.
people are currently looking at this product
Estimated delivery time 3-5 days
Guaranteed Safe Checkout